Other Business Services
Business Entity Choice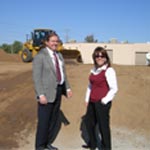 At Lucia & Co., we help you determine the right entity type and legal structure for operating your business and help to answer some of the basic questions. Whether the purpose is starting a retail or service business or investing in real estate, there are many important questions to answer to determine the best entity choice. The right choices can provide protection, peace of mind and tax savings for you and your family. We invite you to take advantage of our complimentary Business Structure Analysis. We can answer questions such as:
What is the difference between a C Corporation and an S Corporation?
When does it make sense to form an LLC?
Should I incorporate in Nevada or California?
What fees are involved?
Do the benefits out weigh the costs?
After you've set up an entity, we can guide you through all that is involved in legally maintaining this entity, filing and paying the proper taxes, paying employees, etc.
Business Affiliations
Through our networking affiliations and other business relationships, Lucia & Co. has aligned itself with many professionals including financial planners, attorneys, business coaches and many others who can advise you in areas about your business that are within their specialties. If necesary, Lucia & Co. can refer you to their professionals, but then still work along side you through the process.
Business Consulting and Financial Analysis
Lucia & Co. can assist you with reading your financial statements and actually using them as a tool to manage your business. We can help you calculate and track ratios and numbers that are important for your business and select K.P.I.s(Key Performance Indicators) that are key for buiness growth.
Free Initial Consultation
Lucia & Co. offers free initial consultations to all potential new clients. These consultations can cover anything you need them to in order to get comfortable with who we are. We invite you to come in and pick our brains about any of the services you have read about here and anything else that comes to mind. If necessary, these initial consultations can take place at your office or place of business, so that we may see your operations in action and have a better understanding of your business.