Avoid those Last Minute Tax Scams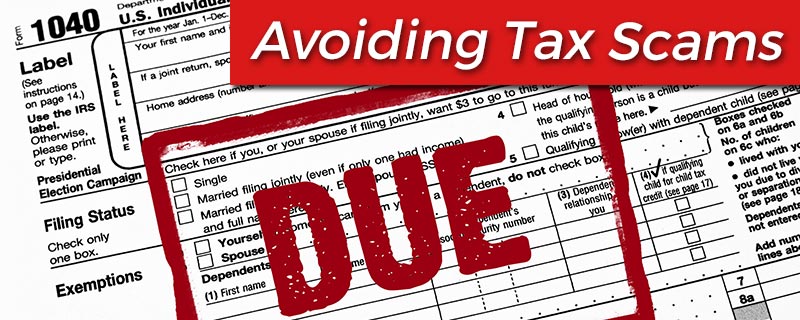 2017 is flying by, and tax season is nearly coming to a close. Indeed on April 18th, everyone should have provided their tax information with the IRS or have requested an extension on their filing date. However, while this is the time of the year where you get a big fat check (hopefully) from the government, there are lots of people out there who fall for tax scams and become victim to missing returns and more. Don't fall for these last minute tax scams that can easily be recognized and avoided.
Identifying Tax Scams
This time of year is where many hackers and phishers come out of hiding and try to trick taxpayers into putting in their hands sensitive information including passwords, SSN and bank account numbers.

The IRS has identified some of these tactics and is warning us taxpayers of scammers who try to do any of the following –
Pose as part of your bank, the IRS or credit card companies asking you for sensitive information such as your bank account numbers, tax information and more.
Asking you to make a last-minute change to your refund destination.
Send you emails asking for a reply with sensitive information.
Watch Out for Fishy Emails
Phishing for sensitive information that can block you from getting your tax return and even hurt your finances happens a lot through email. Keylogging is one method that malicious users utilize to try to get your sensitive information and use it to take control of your tax return.

Note – The IRS will never ask for your information through email.

Here are some tips we have regarding emails and how to identify if one is trying to steal your information –
Check the CC field of an email. Most times phishing emails get sent to hundreds if not thousands of recipients, hoping to catch someone unknowingly.
Don't download/open any attachment or follow a link unless you are positively sure you can trust the source of the email. You may be opening up something that can inject a keylogger right on the spot without you even knowing.
Watch out for fake Google Drive emails! Phishers are getting smarter by pretending to share a document or spreadsheet with you, when in reality it is a download link for a keylogger. Make sure you know and trust those who share documents with you on Google and trash the rest you don't have a clue about.
Free Yourself from Worry
Here at Lucia CPA, we pride ourselves on our tax services and keeping your information confidential. You don't have to worry about all these email attempts at getting your information when you know Lucia CPA already has your information and won't send you weird emails asking you about it. If you still haven't filed your taxes this tax season, let us help! Contact us today and let's start on getting your taxes safely filed on time. We are not your ordinary bean counters!
Trackback from your site.